Yankee Team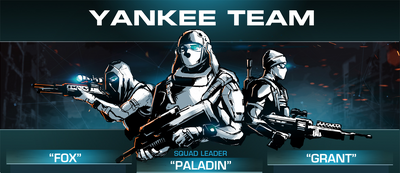 Yankee Team is a Ghost Recon unit active 20 years into the future. It consists of "Paladin," "Grant", and "Fox." They were deployed to Taiwan when the Phantoms raided an ATHENA Corp. laboratory. Fox was able to shoot the Phantom carrying their stolen information, and the team also captured "Virgil".
Looking into the recovered information, they discovered a link to Omega Company, and were then captured by Omega operatives.
Appearances
Edit
Ad blocker interference detected!
Wikia is a free-to-use site that makes money from advertising. We have a modified experience for viewers using ad blockers

Wikia is not accessible if you've made further modifications. Remove the custom ad blocker rule(s) and the page will load as expected.