Weaver
Biographical information
Nationality
American
Age
34
Role
Sniper
Affiliations
Ghost Recon
Occupation
Soldier
Rank
Master Sergeant
Appearances
Ghost Recon Wildlands
Weaver is a member of Ghost Recon in the near future. He was one of four Ghosts deployed to Bolivia to destroy the Santa Blanca drug cartel.
Biography
Edit
Coray Ward was born in Trenton, New Jersey. He excelled in school and graduated from the local Princeton University with great distinction. He then enlisted in the U.S. Navy, and was accepted into DEVGRU. He served multiple tours as a combat sniper, honing his skills. At 30, Weaver joined the Ghosts. When he isn't deployed, Coray acts as a counselor for veterans who are affected by PTSD.
Personality
Edit
Though he has a high education, Weaver tries to downplay his amazing intelligence as not to stand out. Weaver believes that the Santa Blanca drug cartel needs to be stopped mainly for it being a terrorist group that poses a threat to the U.S.
Weaver was the first Ghost picked by Nomad for the Bolivia mission, due to their strong friendship.
Weaver has acquired many medals and accolades throughout the missions that he's been a part of.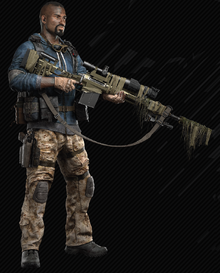 Holt is one of the four Ghost characters in Tom Clancy's Ghost Recon Wildlands. It was confirmed at Gamescon 20156 that players would have complete character and weapon customization options.
Appearances
Edit
Ad blocker interference detected!
Wikia is a free-to-use site that makes money from advertising. We have a modified experience for viewers using ad blockers

Wikia is not accessible if you've made further modifications. Remove the custom ad blocker rule(s) and the page will load as expected.