The Warhound is an advanced four-legged ground combat drone. It is armed with mortars and missiles. A four-member Ghost team used one in the Kola Peninsula to destroy a hidden weapons storage base. Each Ghost had to register with it, and 30K said his name was the "Queen of England." John Kozak was the primary user of the drone on that mission.
Later, another team used one on a mission, launching from LCS-2, USS Independence, to confront the Bedayat jadeda on an island. The drone fell on Kozak when it broke through the tunnel ceilings.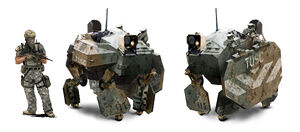 Appearances
Edit
Ad blocker interference detected!
Wikia is a free-to-use site that makes money from advertising. We have a modified experience for viewers using ad blockers

Wikia is not accessible if you've made further modifications. Remove the custom ad blocker rule(s) and the page will load as expected.