The Kriss Vector is a .45 caliber modern submachine gun, most notably used by the Ghosts in various operations. They were assigned to CQC Specialists during the Sri Lankan conflict.
In WildlandsEdit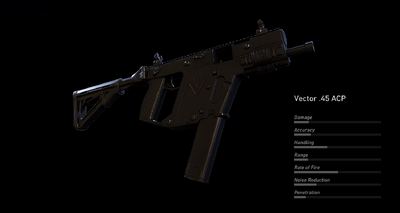 "A high-tech, low recoil SMG."
— In-Game Description
The Vector .45 ACP is a submachine gun in Tom Clancy's Ghost Recon Wildlands that can be obtained by looting its weapon case in the Media Luna Province. While it does slightly higher than average in damage compared to other weapons in its class, it comes with a downside with its high rate of fire with a low mag-capacity of 15 rounds per standard mag, 25 with an extended mag. The Vector also has a Unique variant called the Mendeleyev that is awarded to players who capture Marcus Jensen in Libertad.
The Vector is Ghost Lead's signature weapon which he uses in nearly all missions.
The in-game version of the gun can be fitted with a suppressor, various optics and high capacity magazines. It also has a higher rate of fire than other weapons in its class and is ideal for taking down unexpected enemies or firing on the move.
Appearances
Edit