The Ghosts have worn a variety of uniforms.
2007-2008
Edit
The Ghosts wear the regular Army BDUs.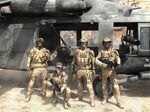 The Ghosts use tan BDUs as part of the IWS program.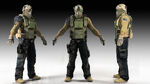 The Ghosts use tan BDUs with optical camouflage.
Near future
Edit
The Ghosts switch to a gray undersuit/armor combination.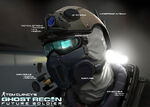 The Ghosts in the near future use a helmet composed of: a HF Antenna, a Waterproof Antenna, a Tactical Optronic, a Cross Com, a Gas Capsule, a Gas Filter and a Power Cable.
Ad blocker interference detected!
Wikia is a free-to-use site that makes money from advertising. We have a modified experience for viewers using ad blockers

Wikia is not accessible if you've made further modifications. Remove the custom ad blocker rule(s) and the page will load as expected.