Tom Clancy's Ghost Recon Wildlands is an upcoming open world game focusing on a conflict with drug cartels in Bolivia. It will be released on March 7th, 2017 for PC, PS4 and Xbox One.
Publisher's summary
Edit
Bolivia has become the largest cocaine producer in the world. The vicious Santa Blanca drug cartel has turned the country into a narco-state, leading to fear, injustice, and violence. The Ghosts, a legendary U.S. Elite Special Operations team, is sent behind enemy lines to wreak havoc and break alliances between the cartel and the corrupted government.
Development
Edit
It is being made by Ubisoft Paris in collaboration with other studios.[1] Ghost Recon Wildlands was announced at E3 2015. The reveal showed a mission against "White Hat" and his drug lab in Bolivia.[4] At the show, it won 25 awards from the media.[5] The game will feature singleplayer and four-person Co-op.[6] Ubisoft has stated that it is moving the series "in a new direction".[1]
An interview with the Lead Game Designer and Senior Producer reveals that it will be set in the near future - about four years from now.[3] The team has done significant research to make this entry into the "Clancyverse", and to create one of the series "What If" entries. This includes visiting Bolivia and conferring with subject matter experts.[7]
Along with the "What If" aspect, the developers asked what would happen if a gang took over the entire coca distribution. It allows for a group of special ops soldiers to go behind enemy lines and break the ties between corrupt government and the cartel.[8]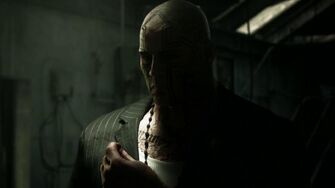 The game will be played in a third-person perspective, and players will have access to a variety of vehicles such as Motorcycles or ATV's. Missions can be tackled in any order and can be completed using several different tactics, including sniping or infiltration. You can also free roam in the game.
[4]
The tactics also include calling in support from rebel forces.
[9]
This open world expands all over Bolivia. You can traverse through mountains, jungles, villages, and deserts. You have the option to explore these locations with many different vehicles.
Additionally, NPCs will have a unique set of "jobs" that they do in the background, such as driving in a convoy or going to the marketplace as part of the open world experience.[3] Additionally, each town will have a life of its own, and choices made in one mission will have consequences later on.[10] For instance, killing a faction leader may destabilize the group, leading to conflict between different factions.[11] The "smart" AI will also adapt to your choices made during the mission.[9]
The game may be played either single-player or co-op with up to four players. But even in single-player, you have AI controlled companions.[12]
Players will have multiple options for customizing their gear and appearance.[9]
Ghost Recon becomes embroiled in the drug war in Bolivia. The unit is sent in to cripple the Santa Blanca drug cartel.[6] The cartel is led by the vicious killer El Sueño, along with The Beauty Queen and El Cardenal.
In order to stop the problem the US military has decided to send the Ghosts ,an elite unit which has the ability to take down the cartel: Operation Kingslayer The team sent in consists of Nomad (Ghost Lead and Support Specialist), Weaver (Team Sniper and Weapons Specialist), Holt (Team Engineer and Drone Specialist) and Midas (Team Combat Specialist and Vehicle Engineer).
Equipment
Edit
Assault rifles
Sniper rifles
Machine guns
Grenades (flash, frag, diversion)
Flare gun
Mines
Vehicles
The game will be available in a standard Edition, Deluxe Edition with new equipment and an XP boost, and a Gold Edition with the Season Pass.
The Season Pass will include access to two expansions.[13]
The preorder bonus will be a mission to disrupt the ties between Santa Blanca and Peruvian cartels.[14]
Bibliography
Edit
Notes and references
Edit
Ad blocker interference detected!
Wikia is a free-to-use site that makes money from advertising. We have a modified experience for viewers using ad blockers

Wikia is not accessible if you've made further modifications. Remove the custom ad blocker rule(s) and the page will load as expected.