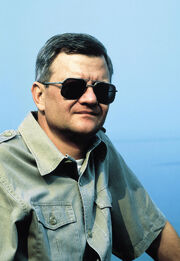 Tom Clancy is an American author, specifically in the genre of military fiction. He wrote the Jack Ryan novels. His name was licensed for the Splinter Cell and Ghost Recon media franchises, which were influenced by his fiction.
He passed away on October 2, 2013.
Ad blocker interference detected!
Wikia is a free-to-use site that makes money from advertising. We have a modified experience for viewers using ad blockers

Wikia is not accessible if you've made further modifications. Remove the custom ad blocker rule(s) and the page will load as expected.