Captain Thomas is a Kiowa scout pilot. In 2007 during the Korean conflict, he scouted a bridge where General Paik's troops were planting explosives. His craft was shot down by a SAM, and he crashed. Although his copilot did not survive, Thomas was captured. He was subsequently rescued by Captain Scott Mitchell's Ghost Recon team. Their extraction was rerouted to avoid Korean reinforcements, so he and Mitchell had to fight back before their helicopter arrived. Thomas' intelligence was vital to ending the conflict.
Appearances
Edit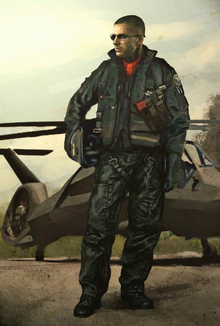 Ad blocker interference detected!
Wikia is a free-to-use site that makes money from advertising. We have a modified experience for viewers using ad blockers

Wikia is not accessible if you've made further modifications. Remove the custom ad blocker rule(s) and the page will load as expected.