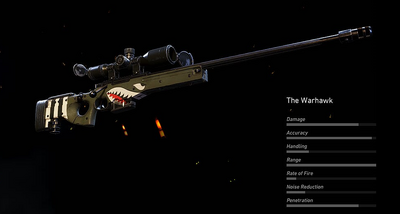 "A rifle painted like a WWII P-40."
— In-Game Description
The Warhawk is a unique variant of the L115A3 bolt-action sniper rifle that is awarded to the player after they defeat Boston Reed, the buchon of the Koani province. This rifle comes pre-customized with a TARS101 rifle scope and a custom paint scheme based off of the Flying Tigers' shark-face nose art on their P-40 Warhawk fighters in World War II. Note that unlike the standard L115A3, the player cannot equip a suppressor on The Warhawk.
Ad blocker interference detected!
Wikia is a free-to-use site that makes money from advertising. We have a modified experience for viewers using ad blockers

Wikia is not accessible if you've made further modifications. Remove the custom ad blocker rule(s) and the page will load as expected.