Behind the scenes
Edit
Real-world history
Edit
The TAR-21 is an Israeli bullpup assault rifle chambered in 5.56×45mm NATO cartridge with a selective fire system, selecting between semi-automatic mode and full automatic fire mode.
The TAR-21 is designed and produced by Israel Weapon Industries (IWI). It is produced in two main variants: the TAR-21 and the CTAR-21; it also has a further developed rifle in the Tavor family, the X95.
Built around a long-stroke piston system (as found in the M1 Garand and AK-47), the Tavor is designed to maximize reliability, durability, simplicity of design, and ease of maintenance, particularly under adverse or battlefield conditions.
In 2009, the Tavor X95 was selected by the IDF to gradually replace the M16 assault rifle and M4 carbine variants as the standard-issued weapon of the Israeli infantry by the end of 2018. The first Tavor X95 bullpup rifles were issued to infantry units in 2013, replacing M16 assault rifles and M4 carbines.
In WildlandsEdit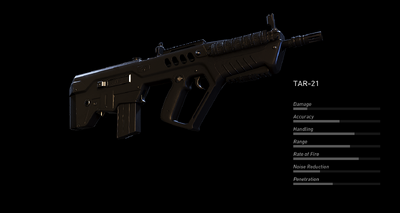 "IDF's standard issue rifle, ideal for urban combat."
— In-Game Description
The TAR-21 is a bullpup assault rifle found in Tom Clancy's Ghost Recon Wildlands that can be obtained by searching it's weapon case in the Montuyoc province.
Appearances
Edit
External links
Edit