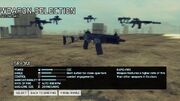 The SR-3M is a submachine gun (assault rifle in Wildlands) available to Ghost Recon operators in the near future.
Behind the scenes
Edit
Real-world history
Edit
The SR-3M is a Russian compact fully automatic assault rifle chambered for the subsonic 9×39mm cartridge. It is based on the AS Val silenced assault rifle but lacks an integral suppressor and has a newly designed folding stock and charging handle for ease of concealed carry.
After the adoption of SR-3, the FSB established new operational requirements with a goal to combine the qualities of the SR-3, AS Val and VSS Vintorez, resulting in a new variant designated SR-3M (СР-3М). It features a quick detachable suppressor and a redesigned handguard with a collapsible foregrip. The iron sights have also been relocated to the upper front handguard as opposed to being located on the suppressor, apparently for when the gun is used without the suppressor attached. For this weapon a larger 30-round magazine was developed, which can be used also by the AS Val and the VSS Vintorez.
In Wildlands
Edit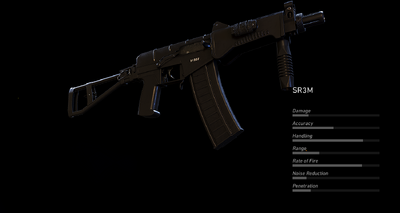 "A compact, full-auto Russian rifle."
— In-Game Description
The SR3M is an assault rifle in Tom Clancy's Ghost Recon Wildlands that can be acquired in the province of Agua Verde.
Appearances
Edit