The SPAS-12 is an Italian-made pump-action shotgun used by various military and police forces.
In WildlandsEdit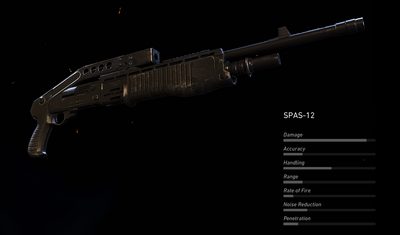 "A shotgun used by police and military all over the world."
— In-Game Description
The SPAS-12 is a semi-automatic shotgun that can be found in the La Cruz province. It comes with a standard folded stock and a 5-round tube. It also has a Unique variant called the El Obsequio that can be obtained by defeating El Pulpo.


Appearances
Edit
Ad blocker interference detected!
Wikia is a free-to-use site that makes money from advertising. We have a modified experience for viewers using ad blockers

Wikia is not accessible if you've made further modifications. Remove the custom ad blocker rule(s) and the page will load as expected.