"The Ritmo is gonna get you!"
— In-Game Description
The Ritmo is a modified AK-12 assault rifle that can be acquired by defeating DJ Perico, the Influence buchon of the Pucara Province in Tom Clancy's Ghost Recon Wildlands. The Ritmo is permanently outfitted with a GP-25 grenade launcher, 30-round extended magazine, PK-AS optic and a Compensator, along with a non-changeable, custom weapon skin.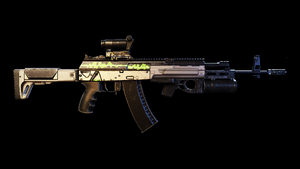 Appearances
Edit