Riflemen
Weapons
Assault Rifles/Machine guns
Equipment
Camera - Ammo Box - Med Kit
Grenades
Frag - Smoke - EMP - Incendiary
The Rifleman is a class which Ghost Recon operators can act as.
The Rifleman is the basic infantry soldier. They are the backbone of any Infantry Squad and, as the US Army calls them, the "Queens of Battle". They are proficient in CQB, Hand to Hand combat and the use and maintenance of various weapons and equipment. In combat, it is the Infantrymen that close in and kill the enemy.
Description
Edit
Extra body armor allows the rifleman to take more hits to the torso, and Assault Rifles excel at all but the most extreme ranges. They also have access to Light Machine Guns (LMGs) to suppress enemies and allow teammates to advance. This makes for a versatile class that can absorb and inflict heavy punishment.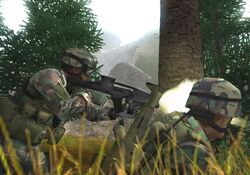 Riflemen
Weapons
Assault Rifles
Grenades
4x Frags - 4x Smokes
The Riflemen is the most flexible dass. He is equipped to adapt to the situation and be effective at both short and long ranges.
SecondariesEdit
Rank unlocked

Ghosts
Bodark
Default
GSh-18, Stun Gun
12

BLD-3 Flash Bulb

BLD-3

24
OTS-33
Beat campaign

Mk40 Grenade Launcher
(Explosive/EMP/Smoke)

G106 Grenade Launcher
(Explosive/EMP/Smoke)
Other
Equipment
Edit
Ghosts Riflemen:
Edit
Bodark Riflemen:
Edit
Headgear
Edit
FAST-B Opt A
FAST-B Opt B
IWH-2014
GPH-3A
GPH-1A
GPH-2A
GPH-3B CBRN
Appearances
Edit