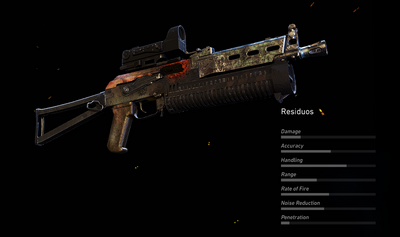 "This gun's last owner is now soup."
— In-Game Description
The Residuos is a special variant of the PP-19 in Tom Clancy's Ghost Recon Wildlands and can be obtained by defeating El Pozolero, the security buchon of San Mateo. Its name is Spanish for "Waste", but is named such because of the large amount of blood a dirt residue that covers the gun. It is a very basic weapon as the only change to it is the Russian Red Dot sight it's equipped with.

Ad blocker interference detected!
Wikia is a free-to-use site that makes money from advertising. We have a modified experience for viewers using ad blockers

Wikia is not accessible if you've made further modifications. Remove the custom ad blocker rule(s) and the page will load as expected.