The Beretta Px4 Storm is a pistol available to Ghost Recon operators. All members of the Ghost Recon team carried a silenced one during Operation War Wraith as a backup weapon.
A Ghost Team Leader carried one on his mission to Sokolov's base in Russia.
The Phantoms carried it during the raid on the Xinyi district in the near future.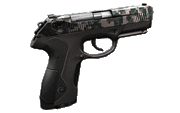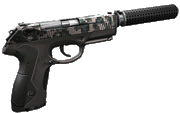 Role in Ghost Recon
Edit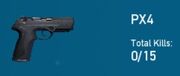 The Px4 appears in the Closed Beta of Ghost Recon Online as the PX4.
The Beretta Px4 Storm is the main sidearm used by Capt. Scott Mitchell and presumably most of the Ghost team in the console versions. A suppressor can be added. It is the .40S&W version, and has a 20 round magazine.
In the Ghost Recon novel, each member of Operation War Wraith carries a silenced pistol.
Real-world overview
Edit
The Beretta Px4 Storm is a semi-automatic pistol manufactured by Beretta of Italy and intended for personal defense and law enforcement use. The Px4 uses the same short-recoil, rotating barrel lock as the Beretta 8000 Models and uses exactly the same Operating System as the M9/92/96 series, while being completely different in design from either. Light-weight polymer construction with steel inserts, a modular trigger group, fully enclosing slide, Picatinny rail on the chin, and changeable backstrap options for the grip are a radical departure from previous Beretta designs.
The Px4 Storm is a short recoil operated, semi-automatic handgun. Constructed of light polymer alloys and steel inlays, it features a modular trigger group, Picatinny chin rail, modular backstrap option, and a twenty round magazine that contains 4.3x30mm pistol ammunition. As of GRAW 2, it is the standard service sidearm for the "Ghosts", a highly trained Special Forces Team, part of the 5th Special Forces Group, 1st Battalion, stationed out of Fort Bragg.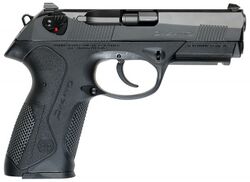 Real-world concept
Edit
The Px4 Storm is an actual weapon, a handgun designed by the Italian firearm company Beretta, designed for law enforcement use and personal defense. It comes in four variants: Type C (Single Action only), Type D (Double Action Only, no safety), Type F (Single/Double Action), and Type G (Single/Double Action). Additionally, the Px4 comes in a subcompact version, and a proposed Joint Combat Pistol for special forces use. It should be noted that this real world weapon comes in 9mm Parabellum, .40 S&W, and .45ACP calibers, not 4.3mm.
Appearances
Edit
External links
Edit