Pepper
Talk

0
257pages on
this wiki
"The best part of this job is that moment just before you take the shot. When it's all lined up and perfect. When you know everybody did their part just right, and you own that battlefield. Then you pull the trigger and it all goes to hell anyway."
— Pepper
Pepper



Full Name

Robert Bonifacio

Age

39

P.O.B.

Stephenville, TX

Organization

United States Army

Division

Ghost Recon

Rank

Master Sergeant

Class

Sniper

Status

Active

Voiced By

Brian Bloom

Appearances
Robert Bonifacio, nicknamed Pepper, is an operator in The Ghosts. He is in the same squad as John Kozak, 30K and Ghost Lead. He is the sniper for the squad. Pepper is a veteran special operations operator. Fighting in the conflict of the storyline in the covert war to achieve objectives in countries such as Pakistan, Africa, Georgia and many others.
Biography
Edit
Robert Bonifacio was born in Stephenville, Texas.
Missions to Russia
Edit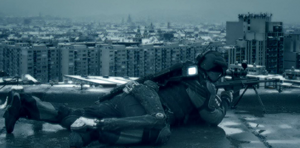 Pepper was part of Operation "Take Down Overlord". He took the shot which killed Ivan Illitch Kerenski, then joined up at the rally point.
Pepper took part in a mission to Russia to disable six nuclear weapons on Sokolov's base. A helicopter took the missiles away before they were finished.
Raven's Rock coup
Edit
Pepper's Ghost Team undertook missions to Bolivia, Zambia, Georgia, and Russia during the Raven's Rock coup.
Nicaraugua
Edit
Pepper may have also assisted another Ghost in the Nicaraguan rebellion against President Raphael Rivera.
Columbia and Libya
Edit
Pepper was part of a Ghost team led by Andrew Ross which had an operation in Columbia and Libya.
Equipment
Edit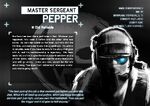 Pepper uses a Vector during combat, a cloaking device, and a M110 suppressed sniper rifle during recon.
He carried an M24A Remington sniper rifle during the Colombia and Libya mission.
Personality
Edit
In most of the Raven's Rock coup missions Pepper is the designated marksman. Pepper has a good friendship with his teammates.
Appearances
Edit