The 9x18mm variant (noted by the 64-round magazine) of the Izmash PP-19 Bizon is a usable weapon by Ghost Recon specialists.
In WildlandsEdit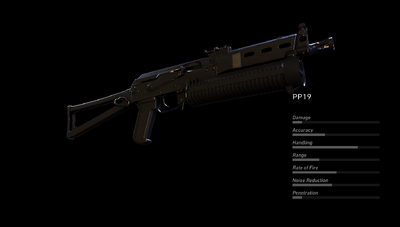 "The Bizon, a veteran of the Caucasus."
— In-Game Description
The PP-19 is a submachine gun in Tom Clancy's Ghost Recon Wildlands that can be acquired in the Agua Verde province. It holds the highest amount of ammo in a single mag out of all the weapons in its class, sitting at 64 rounds per standard mag. It has a Unique variant called the Residuos that is awarded by defeating El Pozolero in San Mateo.
The PP-19 appears in Tom Clancy's Ghost Recon: Desert Siege and Tom Clancy's Ghost Recon: Future Soldier and can incorrectly can fire in 3-round burst mode.
Despite the fact that the actual PP-19 in real life doesn't use a gas system, you can toggle between standard, over and undergassed systems in the Gunsmith in Future Soldier.
Appearances
Edit