The 9x18mm variant (noted by the 64-round magazine) of the Izmash PP-19 Bizon is a usable weapon by Ghost Recon specialists.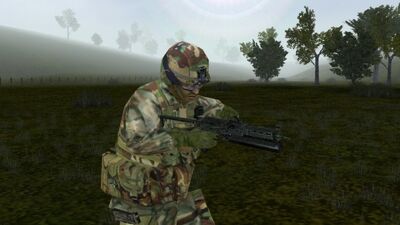 The PP-19 appears in Tom Clancy's Ghost Recon: Desert Siege and Tom Clancy's Ghost Recon: Future Soldier. Incorrectly can fire in 3-round burst mode.
Despite the fact that the actual PP-19 in real life doesn't use a gas system, you can toggle between standard, over and undergassed systems in the Gunsmith in Future Soldier.
Appearances
Edit
Ad blocker interference detected!
Wikia is a free-to-use site that makes money from advertising. We have a modified experience for viewers using ad blockers

Wikia is not accessible if you've made further modifications. Remove the custom ad blocker rule(s) and the page will load as expected.