Nomad
Biographical information
Nationality
American
Age
36
Role
Team Leader/Support Gunner
Personality
Calm, collected
Affiliations
Ghost Recon
Occupation
Soldier
Rank
Major
Appearances
Ghost Recon Wildlands
Anthony Perryman, aka Nomad, is a Ghost team leader. He is the one making the important decisions. A major in the US Army, he was trained to leverage the expertise of each member of his squad for success.
Biography
Edit
Born in Boston, Anthony Perryman ("Nomad") was a military brat who spent his childhood moving from base to base. At the age of 18, he decided to enlist and became a member of Delta Force before the age of 24.
After spending three tours with the counter-terrorist unit Task Force 88, he was then selected to become a Ghost thanks to his impressive feats. Nomad took part in many top secret operations all over the world, but it was only two years ago that he was promoted to Ghost team leader.
Nomad remains completely calm, even under great pressure. He is the epitome of the strong, silent type, able to repress his emotions and to remain completely objective under every circumstance. Past teammates would joke about checking his pulse during parachute jumps to make sure he was alive.
During his initial briefing, Nomad saw surveillance footage of El Sueño executing the family of a Bolivian police officer. Stating that this footage has haunted him ever since, he made a vow to do everything he could to stop El Sueño.
Nomad is a Major in the U.S Army
Nomad speaks fluent Spanish
Nomad uses the Knights Armament Stoner LMG A1 as his primary weapon.
Nomad has a son who has trouble respecting him.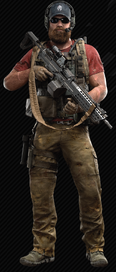 Nomad is one of the four Ghost characters in Tom Clancy's Ghost Recon Wildlands. It was confirmed at Gamescon 2016 that players would have complete character and weapon customization options.
Nomad is the player character in singleplayer mode. Nomad can be edited to be male or female.
Appearances
Edit
Ad blocker interference detected!
Wikia is a free-to-use site that makes money from advertising. We have a modified experience for viewers using ad blockers

Wikia is not accessible if you've made further modifications. Remove the custom ad blocker rule(s) and the page will load as expected.