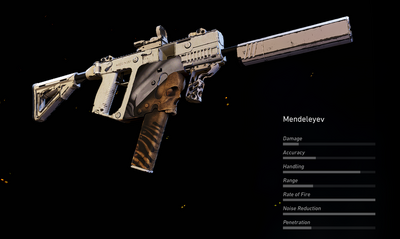 "A deadly gift for an SBC scientist."
— In-Game Description
The Mendeleyev is a Unique variant of the Vector .45 ACP that can be acquired by capturing Marcus Jensen, the production buchon of the Libertad province. It is one of the more flashy unique weapons, as it portrays the Grim Reaper as apart of the gun. It includes a painted hood over the skull while the skull itself is carved in the front to have a 3-D effect, with the ribs painted on the magazine. It comes customized with a Panoramic Sight, a removable suppressor, a Foregrip V4 and a 25-round extended magazine.
Ad blocker interference detected!
Wikia is a free-to-use site that makes money from advertising. We have a modified experience for viewers using ad blockers

Wikia is not accessible if you've made further modifications. Remove the custom ad blocker rule(s) and the page will load as expected.