"When you need to bring on the heat."
— In-Game Description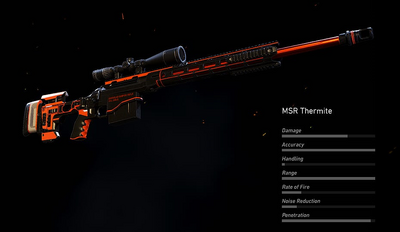 The MSR Thermite is a unique variant of the MSR sniper rifle in Tom Clancy's Ghost Recon Wildlands that cannot be found in-game, but purchased as a part of the Drilling Pack in the Wildlands Store for 1,450 credits. It comes customized with a T5Xi Tactical Scope and a custom weapon skin consisting of primary black with bright orange trim throughout the entire weapon, matching the character customization clothing that comes with the Drilling Pack.