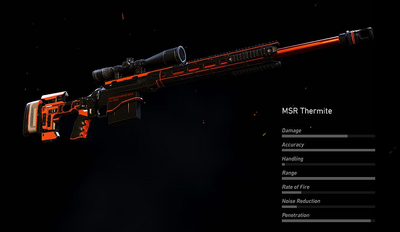 The MSR Thermite is a unique variant of the MSR sniper rifle in Tom Clancy's Ghost Recon Wildlands that cannot be found in-game, but purchased as a part of the Drilling Pack in the in-game store for 1,450 credits. It comes customized with a T5Xi Tactical Scope and a custom weapon skin consisting of primary black with bright orange trim throughout the entire weapon, matching the character customization clothing that comes with the Drilling Pack.

Ad blocker interference detected!
Wikia is a free-to-use site that makes money from advertising. We have a modified experience for viewers using ad blockers

Wikia is not accessible if you've made further modifications. Remove the custom ad blocker rule(s) and the page will load as expected.