"Unleash tiger fury on your enemies."
— In-Game Description
The MK 17 Tiger Fang is a unique variant of the MK 17 assault rifle in Tom Clancy's Ghost Recon Wildlands. It is one of the more flashier weapons, as it has a bright orange color in the custom weapon skin, along with some black tiger stripes and an assortment of accessories. It comes pre-customized with a EXP53 Holographic Sight & G33 Magnifier to make a Hybrid Sight, a removable Suppressor, an AFG (Angled Foregrip), and a Laser Sight. The Tiger Fang cannot be found in a weapon case, but is apart of the Tiger Pack in the Wildlands Store that can be purchased for 970 credits.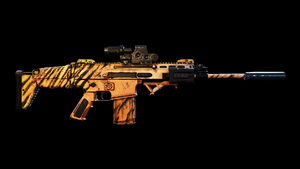 Appearances
Edit