"A salty, old soldier's best friend."
— In-Game Description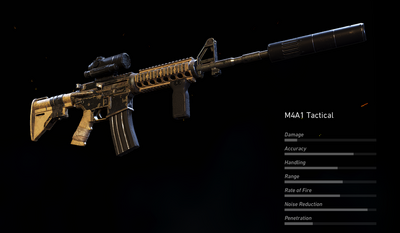 The M4A1 Tactical is a unique variant of the M4A1 that can be acquired by defeating Carl Bookhart, the Buchon of the Montuyoc province. It comes with a fixed semi-auto only fire mode, rather than the 3-round burst and full auto modes on the regular M4A1. It also has a compM4 optic, vertical foregrip, an extended 30-round magazine and a removable suppressor. Furthermore, it has tape on the buttstock, string wrapped around the pistol grip, and covered in a dusty-looking camo. A pair of dog tags are welded into the receiver above the magazine, possibly Bookhart's from when he served in Iraq.

Appearances
Edit