The M40A5 is a sniper rifle.
Ghost Recon: Future Soldier
Edit
Available as DLC.
Ghost Recon: Wildlands
Edit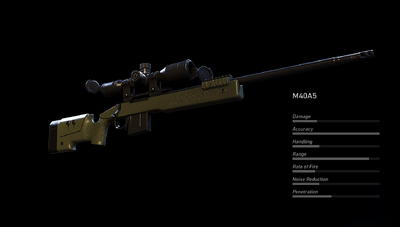 "US Marines still use this reliable bolt-action."
— In-Game Description
The M40A5 is a bolt-action sniper rifle in Tom Clancy's Ghost Recon Wildlands that can be found in it's weapon case, located at the outpost that the Ghosts take Amaru to after rescuing him from the Cartel, in the Itacua province. It is the only weapon case to be purposefully shown to players.
Ad blocker interference detected!
Wikia is a free-to-use site that makes money from advertising. We have a modified experience for viewers using ad blockers

Wikia is not accessible if you've made further modifications. Remove the custom ad blocker rule(s) and the page will load as expected.