M1 Abrams
Talk

0
257pages on
this wiki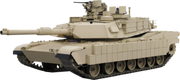 The M1 Abrams main battle tank is the principal combat tank of the United States Army and the United States Marine Corps, with three main versions being deployed starting in 1980: the M1, M1A1, and M1A2. The latest versions of the M1A2 have a new armor and electronics package. It is named after General Creighton Abrams, former Army Chief of Staff and commander of the Army's 37th Armored Regiment.
The M1 Abrams replaced the M60 Patton in U.S. service, as well as the M48A5. It did, however, serve alongside the M60A3, which had entered service just two years before the M1 (in 1978), for over a decade.
Background
Edit
The first attempt to replace the aging M60 tank was the MBT-70, made with Germany. The M60 Patton was itself a gradual evolution of design starting with the M26 Pershing, with a very tall profile, and fairly average armor and weapon compared to the contemporary Soviet designs. The MBT-70 was very ambitious, like many American weapons programs of the 1960s. It had a gun launched missile system, kneeling suspension, a driver housed in the turret, and various other ideas that ultimately proved unsuccessful. Cancellation of this project paved the way for the much more successful M1 Abrams tank, which did not incorporate most of the troublesome innovations tried by the MBT-70.
In Ghost Recon 3: Advanced Warfighter, this tank is occasionally operated by 2 crews instead of 4, seen in "Ready for Bear" mission.
References
Edit
Rostker, Bernard: Environmental Exposure Report:Depleted Uranium in the Gulf. DoD Publication, 1998.[1].
United States General Accounting Office:Operation Desert Storm: Early Performance Assessment of Bradley and Abrams. Washington, January 1992.PDF.
Halberstadt, Hans. Desert Storm Ground War. Osceola, WI, Motorbooks International, 1991. 128 pp.
Forty, George: Tank Action. From the Great War to the Gulf, Allan Sutton Publishing Ltd., Phoenix Mill 1995.