The M16 is the previous standard U.S. Army issue rifle. It is semi-automatic, and fires 5.56 x 45mm ammunition. The weapon is fed by a 30 round magazine that mounts just forward of the trigger. Mostly replaced by the M4 Carbine.
Background
Edit
In 1963, the M16 entered United States Military service and was deployed for jungle warfare operations during the Vietnam War. In 1969, the M16A1 replaced the M14 rifle to become the U.S. military's standardservice rifle. The M16A1 improvements include a bolt-assist, chromed plated bore and a new 30-round magazine. In 1983, the USMC adopted the M16A2 rifle and the U.S. Army adopted it in 1986. The M16A2 fires the improved 5.56×45mm NATO (M855/SS109) cartridge and has a new adjustable rear sight, case deflector, heavy barrel, improved handguard, pistol grip and buttstock, as well as a semi-auto and three-round burst only fire selector.

In WildlandsEdit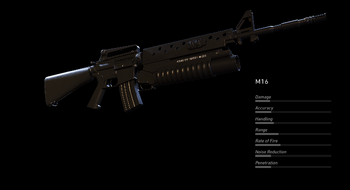 "An assault rifle used by the U.S. Army."
— In-game Description
The M16 was added to Tom Clancy's Ghost Recon Wildlands' as apart of the Predator Pack in the in-game store for 2600 credits. It's versatile overall and, unlike many unique weapons in Wildlands, can be fully customizable with attachments and weapon camouflages.
The M16 and M16A1 originally had semi-automatic and fully automatic modes of fire (some carbine versions were tested with an additional burst mode, though none were officially adopted). The M16A2 version had the full automatic mode replaced by a 3-round burst mode conceived as an attempt to encourage trigger discipline and ammo conservation. The M16A3 was a version of the A2 which retained fully automatic over burst and was procured in limited numbers for use by SEALs and Seabees. The current M16A4 retains the semi-automatic and 3-round burst modes of the M16A2.
The M16 in Ghost Recon Wildlands is visually based the converted AR-15 used by Arnold Schwarzenegger in the 1987 film Predator, but was altered in several ways including a detachable carry handle and Picatinny rail on the receiver for mounting optics, an underbarrel rail for replacing the grenade launcher with a foregrip or rail cover, and rail sections on the sides of the handguard for attaching a laser or rangefinder. Additionally, the barrel model was reused from the M4A1 as evidenced by the presence of the M203 groove ahead of the front sight post.
By default, the M16 equipped with a burst/automatic trigger mod, although this can be changed via Gunsmith to either the semi/burst or semi/auto trigger options.
Unlike other customizable weapons, the M16 is equipped with an M203 grenade launcher by default even if the player has not acquired the grenade launcher skill. Removing the launcher prior to acquiring the skill will render it unusable until said skill has been acquired, however.