The M1014 is the American designation of the Benelli M4 Super 90 was developed in Italy by Benelli Armi Spa., and was imported to the U.S. by Heckler & Koch USA Inc.
In Ghost Recon
Edit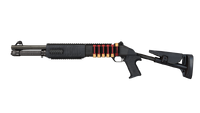 The M1014 appears in Ghost Recon: Advanced Warfighter 2. John Hume can be seen with the shotgun attached on his person. It does not become available to the player until the later parts of the game.
Real-world details
Edit
The M1014 is a smoothbore, magazine fed, semi-automatic shotgun. A two lug rotating bolt is used to achieve barrel locking. It has dual gas cylinders, gas pistons and action rod for increased reliability. The stock is telescopic and can be replaced by a hunting style stock and pistol grip if desired.
Statistics
Edit
Type: gas operated, semi-auto
Gauge: 12 (chamber 3" - 76 mm)
Length: 1010 mm (extended stock), 886 mm (closed stock)
Barrel length: 470 mm
Weigth 3.8 kg unloaded
Feeding: 6 rounds in underbarrel tube magazine
Appearances
Edit
Ad blocker interference detected!
Wikia is a free-to-use site that makes money from advertising. We have a modified experience for viewers using ad blockers

Wikia is not accessible if you've made further modifications. Remove the custom ad blocker rule(s) and the page will load as expected.