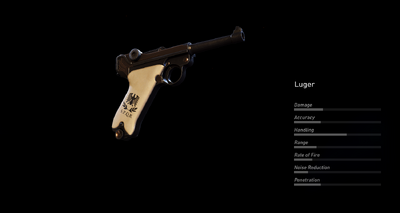 "A war trophy from a famous kingpin."
— In-Game Description
The Luger is a unique, high-powered handgun featured in Tom Clancy's Ghost Recon Wildlands that can only be obtained by purchasing the Veteran Pack in the Wildlands Store. The Luger is a very basic, non-customizable firearm that has a special weapon skin that has an bird above olive branches, along with "S.P.Q.R.", all engraved in the pistol grip.