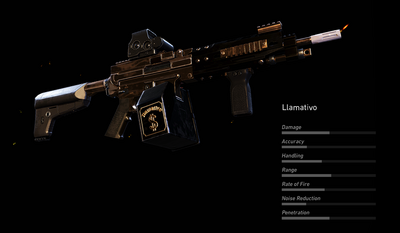 "A gun with more "bling" than "bang"."
— In-Game Description
The Llamativo, Spanish for "Striking," is a unique variant of the MK249. It is obtained after retrieving the Agua Verde resort's guest list after you interrogate Carzita, the buchon of the said province, at a party that he's hosting after the Ghosts bring chaos to the province to lure him back. It holds 150 bullets in a single magazine and is capable of destroying a helicopter with 40-50 bullets. It comes lightly customized, outfitted with an EXP53 holographic sight and a vertical foregrip. It has a flashy camo, dark with a shine to it, along with its name and a dollar sign on the side of the magazine.