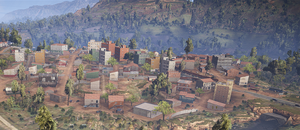 Khochi is a city in Itacua in Tom Clancy's Ghost Recon Wildlands. It is the provincial capital and Bolivia's main market for corn.
There is an accessory case in the east side of Khochi, containing a long barrel for assault rifles.
Ad blocker interference detected!
Wikia is a free-to-use site that makes money from advertising. We have a modified experience for viewers using ad blockers

Wikia is not accessible if you've made further modifications. Remove the custom ad blocker rule(s) and the page will load as expected.