Jungle Hills
Location
Mexico
Date
2014
Objective
1. Secure hilltop to reestablish communication with Command
2. Exit area following road to the north and move to crash site
Game
Ghost Recon: Advanced Warfighter 2 (PSP)
Next
Mission: Farming Village
Jungle Hills is the first mission conducted by Scott Mitchell during the Mexican Rebellion.
Captain Mitchell... do you copy? Come in, Ghost Leader. If you are receiving, get to the higher ground and reestablish comms. We've lost contact with Sabre Six and are showing increased guerrilla activity. Stay on your toes, Mitchell...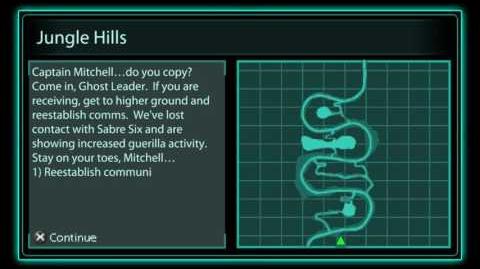 Ad blocker interference detected!
Wikia is a free-to-use site that makes money from advertising. We have a modified experience for viewers using ad blockers

Wikia is not accessible if you've made further modifications. Remove the custom ad blocker rule(s) and the page will load as expected.