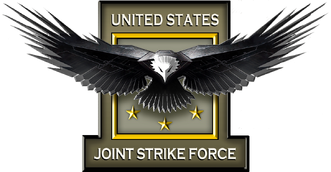 The Joint Strike Force is a branch of the United States of America military. It's motto is "high speed, low drag." It was formed as a combination of all special forces[1] and grew out of the Group for Specialized Tactics.[2] The JSF excels in precision firepower and can rapidly deploy anywhere in the world. Moreover, its stealth technology and weapons accuracy are second-to-none. It was formed by 2021 under the command of General Scott Mitchell.[1]
The JSF defended the launch of the FreedomStar lifter, launched a raid in Copenhagen, and fought the World War III against the Spetznaz Guard Brigade and the European Enforcers.[1]
The Ghosts still existed alongside the JSF during World War III. Ghost Captain Alexander Brent was reassigned to the JSF Academy following a failed mission.[3]
The Joint Strike Force is the American faction in Ubisoft Entertainment's 2008 video game EndWar and the novel Tom Clancy's EndWar.
Appearances
Edit
Notes and references
Edit
Ad blocker interference detected!
Wikia is a free-to-use site that makes money from advertising. We have a modified experience for viewers using ad blockers

Wikia is not accessible if you've made further modifications. Remove the custom ad blocker rule(s) and the page will load as expected.