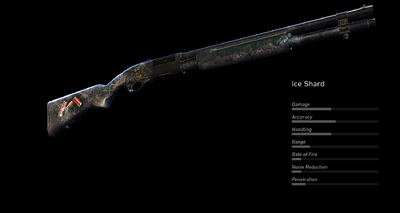 The Ice Shard is a unique, pump-action shotgun featured in Tom Clancy's Ghost Recon Wildlands. It cannot be picked up by players in game, but purchased through the in-game store as a part of the Yeti Hunter Pack for 2,100 Credits. It is one of very few unique weapons that do not have a "Predecessor" weapon, and is also apart of the flashier type unique weapons, as well. It comes with a special weapon skin that lives up to its name, covering the gun in a ice-looking camo, with painted shells on the buttstock to look like they're frozen in the gun.
Ad blocker interference detected!
Wikia is a free-to-use site that makes money from advertising. We have a modified experience for viewers using ad blockers

Wikia is not accessible if you've made further modifications. Remove the custom ad blocker rule(s) and the page will load as expected.