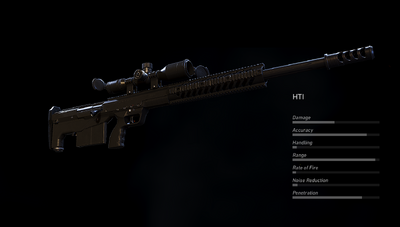 The HTI is a powerful, bolt-action bullpup sniper rifle featured in Tom Clancy's Ghost Recon Wildlands. It is the largest and most powerful sniper rifle in Wildlands and can be acquired in the Montuyoc province. It also has a unique variant called the HTI Muddy Bones.
Scope
TARS101 – Found in Pucara
T5Xi Tactical – Found in Koani
POSP – Found in Ocoro
PKS-07 – Found in San Mateo
G28 – Found in Inca Camina
Digital Scope – Found in Monte Puncu
Ta31h – Unlocked With Weapon
Trigger
Semi-Auto Only – Unlocked with Weapon
Magazine
Standard (5) – Unlocked with Weapon
Barrel
Long Barrel – Found in San Mateo
Standard Barrel – Unlocked with Weapon
Muzzle
Stock Muzzle – Unlocked with Weapon
Suppressor – Unlocked with Weapon


Ad blocker interference detected!
Wikia is a free-to-use site that makes money from advertising. We have a modified experience for viewers using ad blockers

Wikia is not accessible if you've made further modifications. Remove the custom ad blocker rule(s) and the page will load as expected.