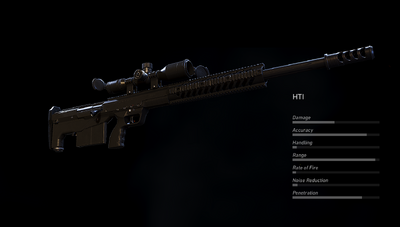 The HTI is a powerful, bolt-action bullpup sniper rifle featured in Tom Clancy's Ghost Recon Wildlands. It is the largest and most powerful sniper rifle in Wildlands and can be acquired in the Montuyoc province. It also has a unique variant called the HTI Muddy Bones.

Ad blocker interference detected!
Wikia is a free-to-use site that makes money from advertising. We have a modified experience for viewers using ad blockers

Wikia is not accessible if you've made further modifications. Remove the custom ad blocker rule(s) and the page will load as expected.