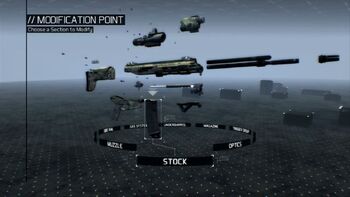 The Ghost Recon: Future Soldier video game has introduced a new gameplay element called Gunsmith. It allows players to fully customize more than 50 different weapons, from inner parts such as gas tubes to external parts such as various scopes. It allows player to create unique weapon that fits him according to his/her play style. Stealthy players can always upgrade their weapons with sound suppressor and a heartbeat sensor, to always know nearby enemy positions and eliminate them silently or use long-range weaponry such as sniper rifles. A more action oriented players can upgrade machine guns with incendiary ammo and to create a "rain of fire". Every weapon can be modified in many ways so that it may suit the player best on the battlefield. Players may test their weapons on the firing range before committing to their choices.
The Gunsmith feature is also available via the Ghost Recon Network mobile app.
Customization Options
Edit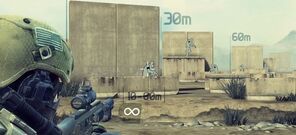 There are 11 groups of gun parts depending on the weapon type that can be customized. Some weapon types have their specific customization options (ex.: a shotgun can be upgraded with "Dragon's Breath" ammo, allowing to burn shot enemies). After customizations are made, the player can test them on a firing range before entering a mission. In single-player, advanced parts are unlocked by completing missions and in-mission achievements (called "challenges"). In multiplayer, players unlock weapons and earn credits as they advance the level of their character.
Trigger
Full Auto Trigger
3-Round Burst Trigger
Semi-Auto Trigger
Match Trigger
2-Stage Trigger
Magazines
Armor Piercing Ammo
Buckshot
Drum Magazine
Dual Magazines
Extended Magazine
Incendiary Ammo
Raufoss Ammo
Standard Magazine
Stun Rounds
Optics
Backscatter Optic
Custom Sniper Optic
High Power Optic
Iron Sights
Magnified HWS
Red Dot
Tac Scope
Thermal Optic
Muzzle
Compensator
Flash Hider
Standard Muzzle
Suppressor
Underbarrel
40MM HEDP Launcher
40MM Smoke Launcher
40MM EMP Launcher
Angled Foregrip
Bipod
Bipod Grip
Posted Slide
Rail Cover
UB Shotgun
UB Stun Gun (MP Only) 
Vertical Foregrip
Stock
Collapsed
Extended
Fixed
Folded
Side Rail
Aiming Laser (Campaign Only)
OTR Scanner
Rail Cover
Gas System
Standard Gas System
Over-Gassed
Under-Gassed
Barrel
Long Barrel
Short Barrel
Standard Barrel
Ghost Recon Future Soldier - "Kinect GunSmith" Demo Trailer (2012)

On the Ghost Recon Network website you can use gunsmith in the web browser and later on, synchronize your game with it to import the changes.
If player happens to have a bugged trigger group, displaying the selected trigger group as "none", holding the fire button will release all the ammunition in one shot.