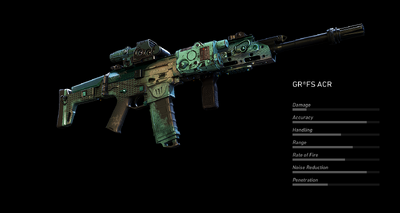 "A tribute to an unrivaled Ghost squad."
— In-Game Description
The GRFS ACR is a unique variant of the ACR in Tom Clancy's Ghost Recon Wildlands that can be obtained in two ways: either by owning or have played Tom Clancy's Ghost Recon: Future Soldier or by purchasing the Future Soldier Pack in the Wildlands Store for 2,100 credits. The pack itself contains the rifle, John Kozak's Future Soldier outfit, and a patch. The ACR is customized with "Kozak" on the receiver, a suppressor, an ATPIAL Laser Sight, an extended 30-round magazine, a Vertical Foregrip and an EXP53 Holographic sight with a G33 magnifier to form a Hybrid Sight. It also has a very unique custom weapon skin that is a mix between stock-black and a light/dark mix of turquoise with a Ghost skull on the receiver.