The Famas (stylized FAMAS) is a French-made assault rifle.
FAMAS (Fusil d'Assaut de la Manufacture d'Armes de St-Etienne) is an assault rifle developed for the French Army and has been in service since the 1960's.
Ghost Recon: Advance Warfighter 2
Edit
Appears only in the Xbox 360/PS3 version as the FAMAS GL. It's equipped with an ACOG scope and can be outfitted with an M203 grenade launcher. 30 round magazine capacity.
In WildlandsEdit
"The French Commando's bullpup"
— In-Game Description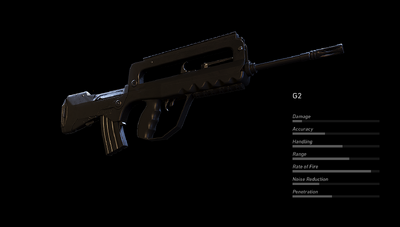 The G2 is a bullpup assault rifle in "Tom Clancy's Ghost Recon Wildlands" that can be acquired in the province of Inca Camina.
Appearances
Edit