The FN SCAR is a series of assault rifles used by the US Military and British SAS. It fires a 5.56mm or 7.62mm bullet depending on the model (SCAR-L 5.56MM, SCAR-H (7.62MM).
In Ghost Recon
Edit
The FN SCAR appears in Tom Clancy's Ghost Recon 2: Summit Strike, Tom Clancy's Ghost Recon: Advanced Warfighter, Tom Clancy's Ghost Recon Wii, and Tom Clancy's Ghost Recon: Future Soldier. In Future Soldier, it is available with the Arctic Strike DLC for Engineers as the MK17.
Ghost Recon Online
Edit

The Mk 16 CQC ALP is a legendary weapon found in Arctic Pack.
In WildlandsEdit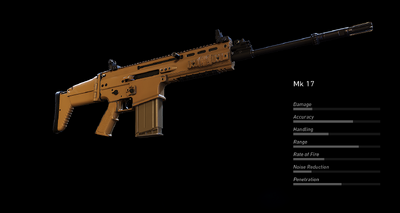 "A modular and reliable combat rifle."
— In-Game Description
The Mk 17 is an assault rifle in Tom Clancy's Ghost Recon Wildlands that can be found in the Flor De Oro province. It also has the highest damage in it's weapon class.
Appearances
Edit
Ad blocker interference detected!
Wikia is a free-to-use site that makes money from advertising. We have a modified experience for viewers using ad blockers

Wikia is not accessible if you've made further modifications. Remove the custom ad blocker rule(s) and the page will load as expected.