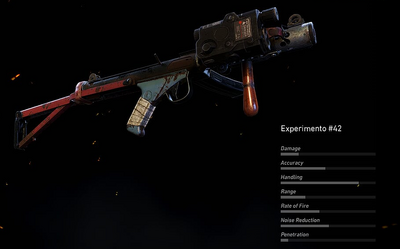 "A gun made of spare sub parts."
— In-Game Description
The Experimento #42 is a unique variant of the 9mm C1 sub machine gun in Tom Clancy's Ghost Recon Wildlands, and is awarded to the player when they "Defeat" El Cerebro, the smuggling buchon of the Caimanes province. It comes lightly pre-customized with an APTIAL Laser Sight and a Foregrip, along with a very plain custom weapon skin with light blue on the pistol grip with tape wrapped around and light red on the stock.

Ad blocker interference detected!
Wikia is a free-to-use site that makes money from advertising. We have a modified experience for viewers using ad blockers

Wikia is not accessible if you've made further modifications. Remove the custom ad blocker rule(s) and the page will load as expected.