"A narco's Father's Day gift."
— In-Game Description
The El Obsequio, Spanish for "The Gift", is a unique variant of the SPAS-12 semi-automatic shotgun that can be obtained by defeating El Pulpo, the smuggling buchon of the Barvechos province. It has the same stats as the stock SPAS-12, except is outfitted with a rather basic silver-greyish camo with an engraving on the pump.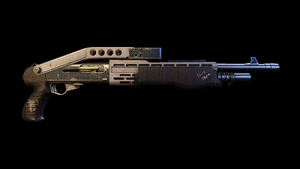 Ad blocker interference detected!
Wikia is a free-to-use site that makes money from advertising. We have a modified experience for viewers using ad blockers

Wikia is not accessible if you've made further modifications. Remove the custom ad blocker rule(s) and the page will load as expected.