The DSR-1 is a sniper rifle favored by Alicia Diaz, who carries it during Operation War Wraith. It is available in Ghost Recon Online where it is known as the Sentinel SR-1. It is also appears in Tom Clancy's Ghost Recon Wildlands where it is known as the SR-1.
In WildlandsEdit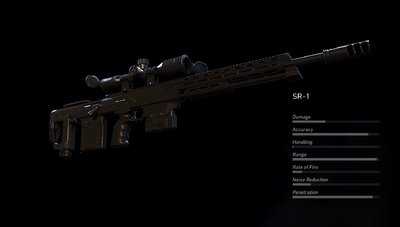 The SR-1 is a bolt-action, bullpup sniper rifle in Tom Clancy's Ghost Recon Wildlands that can be acquired in the Koani province.
Real World
Edit
The DSR-1 is a German tactical precision rifle, designed for Military and Police service.
The DSR-1 system is configured in a bull-pup design, with a free-floating barrel. The folding bipod is mounted onto upper rails (above the barrel), and the adjustable horizontal front grip is mounted on the lower rails (under the barrel). The rifle features a fully adjustable rear stock and cheek piece. The holder for a spare magazine is installed in the front of the trigger guard to decrease reloading time. The DSR-1 action features a benchrest match-grade, fluted barrel that is quickly interchangeable and is fixed into receiver by three screws. The bolt features six lugs that lock directly into the barrel. The barrel is protected by a ventilated aluminum handguard and is fitted with a muzzle brake (which is very useful when firing full-power, magnum loads). The trigger is two-stage and adjustable. The DSR 1 features a manual, ambidextrous three position safety, located above the trigger guard. For the standard version of the DSR 1 a tactical silencer is available. The silencer is designed to be used with high power ammunition the DSR-1 chambers. This silencer effectively suppresses the muzzle blast. Naturally it can not suppress the crack of a supersonic projectile but the direction where the bullet comes from is effectively concealed. The tactical silencer is easily mounted in seconds on the muzzle brake using a quick release lever.
Appearances
Edit