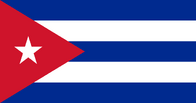 Cuba
is a country consisting of several islands including Isla de la Juventud and the island of Cuba. Located in the northern Caribbean, it is largest and second-most poppulated island of the Greater Antilles. Havana is the country's capital.
The islands of Cuba are featured as the setting of a Ghost Recon mission in 2010. After the death of Fidel Castro in 2006, the Ghosts are sent in to ensure that Cuba has a trouble-free election. The Ghosts battle a corrupt political group fronting their candidate Ariel Priego using violent methods, such as kidnapping and killing opponents and blackmailing them. Eventually, the Ghosts manages to restore peace and elections proceed without major conflict.
Appearances
Edit
Ad blocker interference detected!
Wikia is a free-to-use site that makes money from advertising. We have a modified experience for viewers using ad blockers

Wikia is not accessible if you've made further modifications. Remove the custom ad blocker rule(s) and the page will load as expected.