Cross Com
Talk

0
257pages on
this wiki
Cross Com is a device used by the leaders of the Ghost recon units. Its function is to identify enemy soldiers and vehicles, connect with other electronic devices that have video camera, show maps,comunicate with other ghost soldiers, and others functions that will help with the information of the battlegrounds.
Cross Com 1.0
The Cross Com 1.0 is used in the first Ghost Recon Advanced Warfighter by the captain Scott Mitchell during the events of Mexican Revolutionary Crisis in 2013. Your principal function is show the location of the enemy soldiers and vehicles. This version didn´t connects with the others ghost or show what they are seeing, but connects with the HQ, the officer of inteligency in the field and Scott Superiors.
Another function of the Cross Com 1.0 its show the condition of the soldier. If he is ok, the condition that is show is green, if he is hurt the condition is yellow and if he badly hurt the codition shows the color red.
The Cross Com also show the ammo of the soldier and how much bullets he has in the weapon. The ammo is marked in magazines and not number of bullets.
Cross Com 2.0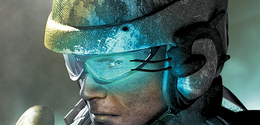 The Cross Com 2.0 is a upgraded version of the Cross Com 1.0. This version is seen in the Ghost Recon Advanced Warfighter 2.
Its possible to give orders when you are connected with the others Ghost or vehicles. Example: When connected with the Ghost you can give him a order to "go to", attack or regroup.
In this version, the Cross Com can connects with the Cross Com of the others Ghosts, showing to Captain Mitchell a other perspective of the battlefield.
Besides the ghosts, the Cross Com can connect with others vehicles like UAV's, Tanks, APC's and M.U.L.E.'s. This helps a lot in the battlefield because the UAV's can find the enemys in others regions of the map that you are note seeing, for example, behind a wall, inside a building or even in elevated places. When the UAV is connect with the Cross Com, the UAV drops his altitude, having yourself the chance to be seen and destroyed by the enemy.
When the Cross Com connects with the M.U.L.E., you have total control of the vehicle, possibiliting to find good spots to hide the vehicle and helping yourself to resuply your munition without getting caugth in the firefight.
Connecting the Cross Com into APC's, Tanks and Helicopters allows a strategic comand to advance or shoot the enemy.
Gallery