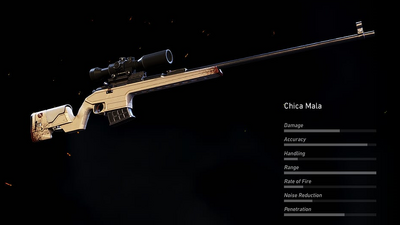 The Chica Mala, Spanish for "Bad Girl", is the unique variant of the M1891 bolt-action sniper rifle in Tom Clancy's Ghost Recon Wildlands. It has a special weapon skin consisting of flat, actic-white with blood splatter on the front corner of the handguard and the buttstock. There is also a kiss print just behind the cheek rest.

Ad blocker interference detected!
Wikia is a free-to-use site that makes money from advertising. We have a modified experience for viewers using ad blockers

Wikia is not accessible if you've made further modifications. Remove the custom ad blocker rule(s) and the page will load as expected.