"A gun befitting a true rebel leader."
— In-game description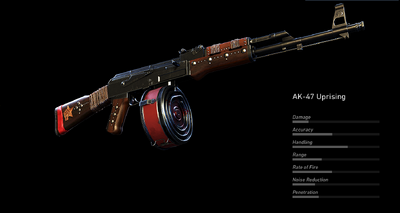 The AK-47 Uprising is a variant of the AK-47 that is given to all Season Pass owners at the start of the game in Tom Clancy's Ghost Recon Wildlands. It is a very basic weapon, as the only changes to it is the large, 80-round drum magazine and the inability to equip a suppressor. It has a rebellion engraving in the buttstock of a star and closed fist, along with being adorned with metal studs in the buttstock, pistolgrip and handguard, and has string wrapped around the stock and hand guard as well.