"A gun befitting a true rebel leader."
— In-game description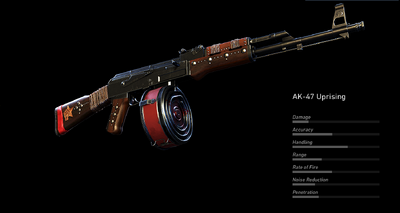 The AK-47 Uprising is a variant of the AK-47 that is given to all Season Pass owners at the start of the game in Tom Clancy's Ghost Recon Wildlands. It is a very basic weapon, as the only changes to it is the large, 80-round drum magazine and the inability to equip a suppressor. It has a rebellion engraving in the buttstock of a star and closed fist, along with being adorned with metal studs in the buttstock, pistolgrip and handguard, and has string wrapped around the stock and hand guard as well.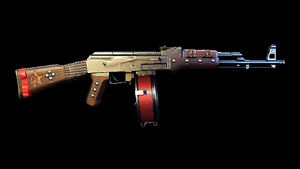 Ad blocker interference detected!
Wikia is a free-to-use site that makes money from advertising. We have a modified experience for viewers using ad blockers

Wikia is not accessible if you've made further modifications. Remove the custom ad blocker rule(s) and the page will load as expected.