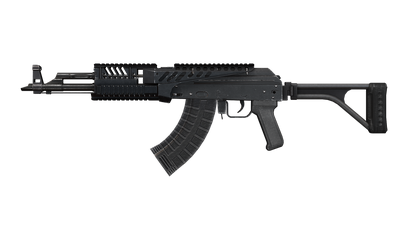 The AK-47 is the most widely used Russian assault rifle worldwide today. First designed by Mikhail Kalashnikov in 1947, it quickly established a reputation by being a sturdy, hard-hitting, and reliable assault rifle in the 21st century.
The rifle is often used by the enemies of Ghost Recon. In the Waziristan rescue mission, Scott Mitchell's team carried suppressed rifles as part of their disguise.
In Ghost ReconEdit
It is used in the early games such as Ghost Recon: Island Thunder and is used in Ghost Recon: Advanced Warfighter and Tom Clancy's Ghost Recon: Advanced Warfighter 2 in the multiplayer modes. It appears in Ghost Recon: Future Soldier for signature edition owners only.
In Ghost Recon: Island Thunder, the AKM becomes a usable weapon, but is incorrectly called "AK47". The rifle appears without the slant muzzle brake.
In Ghost Recon Advanced Warfighter 2 it is only in the PS3/Xbox 360 versions of the game. It is not equipped with a scope, and cannot be modified with a grenade launcher. It can only be used in multiplayer, and has a 30 round magazine.
In WildlandsEdit
"The worlds most popular combat rifle."
— In-Game Description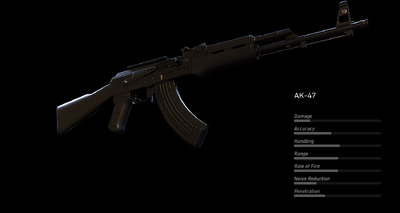 The AK-47 is an assault rifle that can be acquired in the Libertad province. It is a reliable firearm that can be widely modified, and has 5 variants as of 4/18/17:
Appearances
Edit
External links
Edit
Ad blocker interference detected!
Wikia is a free-to-use site that makes money from advertising. We have a modified experience for viewers using ad blockers

Wikia is not accessible if you've made further modifications. Remove the custom ad blocker rule(s) and the page will load as expected.