AH-6 Little Bird
Origin
United States
Role
Light Observation Helicopter
Air interdiction
Forward air control
Special Patrol Insertion/Extraction
Manufacturer
MD Helicopters
General characteristics
Crew
2 pilots
Length
32.6 ft (9.80 m)
Height
9.8 ft (3.0 m)
Loaded weight
1,591 lb (722 kg)
Performance
Maximum speed
175 mph (282 km/h)
Range
267 miles (430 km)
The AH-6 Little Bird was the part of the forces deployed to Mexico in 2014.
Real-world history
Edit
The AH-6 Little Bird is a single, six-bladed main rotor with four-bladed tail rotor. The helicopter was praised for its versatility, efficiency and utility, the helicopter was still used by the United States Armed Forces. Because all of its remarkable perks and the small fuselage, the helicopter was generally utilized for Special Operations and to date, it has a total of nine variants including a special UAV variant.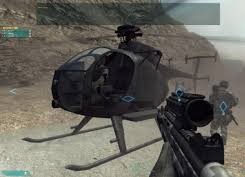 Appearances
Edit
Ad blocker interference detected!
Wikia is a free-to-use site that makes money from advertising. We have a modified experience for viewers using ad blockers

Wikia is not accessible if you've made further modifications. Remove the custom ad blocker rule(s) and the page will load as expected.