The 805 Bren A2 (S805 in Future Soldier) is an assault rifle.
Background
Edit
Real-world origin
Edit
The CZ 805 BREN is a Czech assault rifle created in 2006 to replace the Sa vz. 58 in the Armed Forces of the Czech Republic. The rifle is also competing to replace the Sa vz. 58 in the Armed Forces of the Slovak Republic.
The CZ 805 BREN utilizes a well-proven locked breech principle with rotating breech block and its automatic function is driven by combustion gases tapped from the barrel with option of two-stage regulation of piston mechanism. The weapon is gas-operated and features a rotating bolt and a manual gas regulator.
The CZ 805 BREN assault rifle is fitted with folding iron sights, but also includes an integral Picatinny rail on top of the receiver and is capable of accepting a wide variety of additional sighting equipment (red-dot or telescope day sights, night sights, lasers etc.). The weapon is equipped with side-folding buttstock, which is adjustable for length of pull, and can be completely removed if maximum compactness is required. Additional equipment also includes a new, specially designed 40mm underbarrel grenade launcher and a bayonet.
The fire control unit includes ambidextrous safety/fire selector switch, which permits semi-automatic, 2-round bursts and full automatic fire.
Charging handle can also be installed on either side of the weapon, depending on user preferences. The CZ 805 BREN has two barrel lengths. A 360 mm (14.2 inch) barrel length for the standard assault rifle variant, the CZ 805 BREN A1 and a 277 mm (10.9 inch) barrel for the carbine variant, the CZ 805 BREN A2. The barrel is chrome-lined to ensure a very high accuracy and durability. The rifle features a magazine housing which is a separate detachable unit. Which can be replaced easily to allow the use of STANAG or HK G36 5.56x45mm NATO magazines. It is also capable of housing a 5.56x45mm NATO 100-Round Beta C-Mag. In standard configuration, the CZ 805 BREN uses a proprietary 5.56x45 NATO caliber 30-Round magazine made of transparent polymer which is made by CZ.
In Ghost Recon
Edit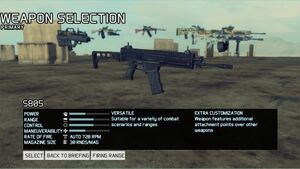 The S805 first appears in Tom Clancy's Ghost Recon: Future Soldier via the "Arctic Strike" DLC and it is only available to Bodark riflemen.
In Wildlands
Edit
"A short barrel Czech assault rifle."
— In-Game Description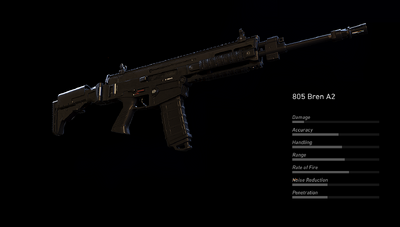 It is featured in Tom Clancy's Ghost Recon Wildlands under the name 805 Bren A2 that can be found in the province of Villa Verde or picked up temporarily from Santa Blanca Cartel Troops.
Appearances
Edit