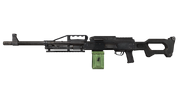 The PKP is a machine gun available for use by Ghost Recon operators.
Behind the scenes
Edit
Real-world history
Edit
The PKP (Russian: Печенег) is a Russian General-purpose machine gun chambered for the 7.62×54mmR round. It is a modernized PK machine gun. The PKP is said to be more accurate than all its predecessors due to a heavier, non-removable, forced-air-cooling barrel with radial cooling ribs and a handle which eliminates the haze effect from hot gases and keeps the barrel cooler, making the weapon more reliable. Furthermore, the weapon is capable of having a telescopic sight or other sights mounted on it, increasing its accuracy and effective range. The GRAU index is the 6P41. The PKP is currently in use by Russian Army Spetsnaz and other troops in significant numbers.
The PKP is a standard 7.62×54mmR PKM machine gun without the rapid barrel-change option, and intended for use from an integral bipod as a squad support weapon. It can provide more sustained firepower than the standard-issue RPK-74, and the 7.62×54mmR cartridge offers a longer effective range and better penetration of light structures and improvised covers in urban and forest environments.
In WildlandsEdit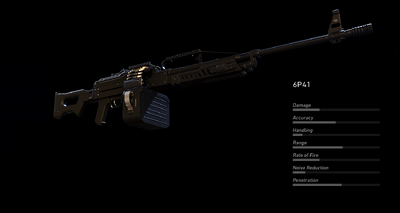 "A Russian belt-fed machine gun."
— In-Game Description
The 6P41 is a belt-fed Light Machine Gun in Tom Clancy's Ghost Recon Wildlands that can be acquired in the province of Media Luna. It has a high damage output at the cost of a lower fire rate, and has a unique variant called the El Bastón.

Appearances
Edit