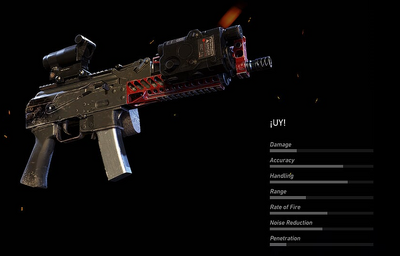 "Half burned, like it's owner."
— In-Game Description
The ¡UY! is a Unique variant of the 9x19VSN submachine gun in Tom Clancy's Ghost Recon Wildlands that is awarded to the player after they defeat El Chido, the influence buchon of the Malca province. It comes customized with a PK-AS optic, an ATPIAL Laser Sight and a folded buttstock. It also has a very basic weapon skin with a white, standard 20-round magazine and red paint on the hand guard.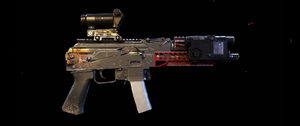 Ad blocker interference detected!
Wikia is a free-to-use site that makes money from advertising. We have a modified experience for viewers using ad blockers

Wikia is not accessible if you've made further modifications. Remove the custom ad blocker rule(s) and the page will load as expected.